Între 8-11 Septembrie 2022 la Sibiu s-a aflat o echipă internațională de cercetători și profesori creștini și musulmani din domeniul misticii teologice inter-religioase. Aceștia au reflectat asupra temei de cercetare a proiectului. Conferința în sine s-a desfășurat pe perioada 9-10 Septembrie cuprinzând opt sesiuni de lucru în cadrul cărora cercetătorii au avut ocazia să își prezinte temele propuse. Majoritatea prelegerilor se vor constitui în articole publicate într-un al doilea volum tematic în cadrul revistei Religions (Web of Science).
Citește (în limba italiană și engleză) un articol despre acest eveniment redactat de Roberto Catalano.
An international team of Christian and Muslim scholars and professors in the field of interfaith theological dialogue met in Sibiu from 8th to 11th September 2022. They reflected on the research theme of the project. The conference itself took place on 9-10 September and included eight working sessions where researchers had the opportunity to present their proposed themes. Most of the lectures will be published as articles in a second thematic volume in the journal Religions (Web of Science).
Read (in Italian or Eglish) an article about this event written by Roberto Catalano.
The Programme of the Conference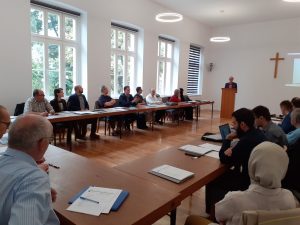 Call-ul Conferinței
La sfârșitul săptămânii (9-10 septembrie 2022), sub egida Universității "Lucian Blaga" din Sibiu va avea loc o conferință internațională pe tema dialogului islamo-creștin la sediul Universității de pe bulevardul Victoriei, nr. 40. La eveniment vor lua parte cercetători și profesori de specialitate atât creștini cât și musulmani din mai multe țări.
Conferința este organizată în cadrul proiectului de cercetare intitulat "Teologia mistică în dialogul islamo-creștin" (director de proiect: Prof. Univ. dr. Stefan Tobler – Departamentul de Istorie, Patrimoniu și Teologie Protestantă), finanțat prin parteneriatul dintre Universitatea "Lucian Blaga" și Institutul Hasso Plattner. Participarea este posibilă atât la fața locului cât și online. Pentru oricare dintre cele două opțiuni, vă rugăm adresați-vă secretariatului proiectului: mystdial@ecum.ro.
Pentru mai multe informații, vizitați site-ul proiectului: www.mystdial.ecum.ro
Programul Conferinței în format PDF.
Participanții (cu aflierea lor academică).
---
See the Conference Call for Papers
The "Lucian Blaga" University of Sibiu (LBUS) announces the Conference entitled Mystical Theology and Muslim-Christian Dialogue that will take place on 8-11 September 2022. The event is organized by the Department of History, Patrimony and Protestant Theology of LBUS in cooperation with Sophia University Institute Florence (Italy) and Institute of Systematic Theology, University of Innsbruck (Austria).
The aim of this conference is to bring together theologians, religious studies scholars or spirituality scholars and historians, Christian and Muslim, to discuss and map out the implications – both opportunities and limits – of the mystical theology on the inter-religious dialogue.
The Conference Programme
The Speakers (with their affiliation)